Event name South & Southeast Asia Commodity Expo and Investment Fair 2017
Date 12-16 June 2017
Venue Kunming, China

The 13th China-ASEAN Expo 2016 on 11-14 September 2016 in Nanning City, Guangxi Zhuang Autonomous Region of China
BAI have chanced to join with on Behalf of the Cambodian Inter-Ministerial Committee to organize and participate in the world Expo and International Trade Exhibitions which the Ministry of Commerce has honor to inform the traders and businessmen with the participation of 10 ASEAN Member States and china.
Shanghai exhibition at China-2016
The 11th Shanghai International Starch and Starch Derivatives Exhibition 21-23 June 2016
Visit from MOC Thailand and other Departments
MOC Thailand included Department of Foreign Trade and Commercial Affairs Chanthaburi, Chanthaburi Thai-Cambodia Border Tourism and Trade Association, and The Chantaburi Chamber of Commerce visited Battambang Agro Industry (BAI) on July 12, 2015.
Shanghai exhibition at China
BAI had a visit from MEF
H.E. Aun Pornmoniroth, Minister, Ministry of Economy and Finance and team visited Battambang Agro Industry (BAI) on April 22, 2015.
Official Opening Ceremony
His Excellency Mr. Prach Chan, Governor of Battambang province, His Excellency Mr. Sompong Sanguanbun, Ambassador of the Kingdom of Thailand to Cambodia, and His Excellency Mr. Ouk Vong, Council Director of the Battambang province, were invited to attend the ceremony of the Official opening of new cassava community member conducted at Battambang Agro Industry Co., Ltd (BAI) held last 24th April 2012 in Thmey village, Ouda commune, Kam Reang district, Battambang province.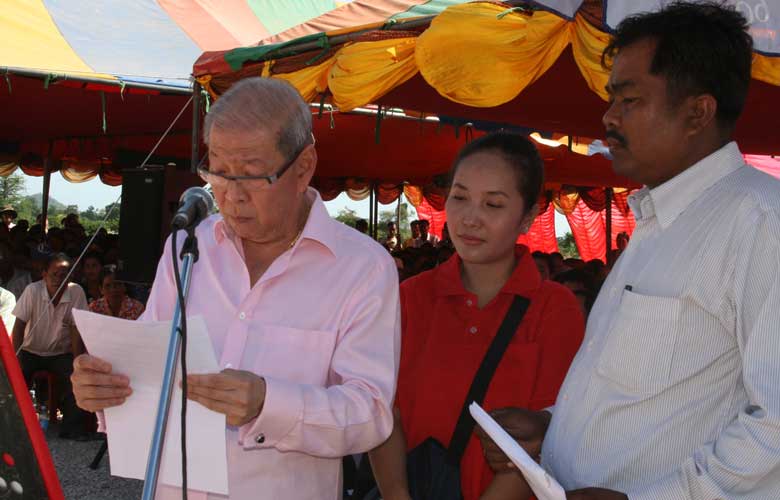 Address of Oknha Thai Tino, managing director of BAI.
Exhibition at CHINA (Nanning City)
News Released on Bayon TV